It's hard to believe that it was eight years ago when we were told of Cyberpunk 2077's existence. CD Projekt Red is a studio that has earned a lot of praise and goodwill thanks in part to the Witcher 3 game and subsequent expansions and free content. Although, with the launch of Cyberpunk 2077, that earned goodwill is rapidly depleting.
I am not going to bury the lede here, Cyberpunk 2077 is at times fun, but it gets monotonous very quickly. The game we got is not the game many of us (myself included) thought we would be getting. The open-world is not as immersive as many would have hoped, the AI and NPC's in the game are stupid.
Usually, a review will go through the various components of a game, the gameplay, mechanics, story writing, acting. Sadly, this is going to be more an opinion piece because Cyberpunk 2077 is an incomplete game amounting to what I would consider a beta and if you're playing on last-gen consoles, more of an alpha.
For a game in development for eight years, I was expecting it to be on par with Grand Theft Auto 5, at the very least. To me, GTA V set the benchmark for what an open-world action game with the freedom to forge your own path and do whatever you want should be.
In-fact, I find GTA V to this day to still be a quality game. Rockstar has done a tremendous job at keeping the game fresh and adding in new content (a whole island is coming to GTA V: Online this month).
As a developer myself, my hunch is that Cyberpunk 2077 started off as a very different game and because of scope-creep and perhaps parts being rewritten, the development timeline blew out astronomically. This is an ambitious game and perhaps, a little too ambitious. Some allege that Keanu Reeves involvement made CDPR rewrite the story and parts of the game to give him more of a role in the game.
Visually, Cyberpunk 2077 feels true to what many would consider Cyberpunk. The quirky outfits, excessive use of Neon, dystopian-style fonts and a world of hackers/underground militant groups and greedy corporate interests all at war with one another. A gritty and sinister world where it feels like anything can happen.
But, there are flaws. I apologise in advance for the GTA V comparisons when I make them, I am referring to the gameplay and world, not the genre nor story writing. They are both different games but have enough similarities they are worth comparing in some aspects.
Do this. Do that. Rinse Repeat.
I am only 10 hours into the game so far, so my experience might not be the same as yours. However, up until this point, things feel linear and not fluid. I shoot some bad guys, my chip/tech starts playing up, people shoot at me, I shoot back. I start to feel unwell, I see a RipperDoc.
The dialogue is also same-same. I have limited choices in what I can respond with, it's either A, B or C. Seemingly, no matter what I choose, the outcome seems to be the same every time. Sometimes I can talk my way out of a situation turning violent, but that is about it.
A lot of the people on the street while you can try and talk to them when the option comes up, more often than not, they will just tell you to fuck off and not engage in conversation. Everyone in this city seems to be tightly wound and aggressive.
In one of my first experiences, I tried talking to a police officer and they told me to beat it. I kept spamming the F key in hopes something would happen and something did happen: the police turned on me. A swarm of police spawned and started firing on me, just for trying to have a conversation and being non-threatening. It seemed heavy-handed, but in the current police climate in the US, not completely unrealistic.
And yes, there are bugs.
At the time of writing this, there is a litany of bugs ranging from broken pathfinding to instant spawning police and genitals clipping through clothing. Like the Witcher 3 at launch, I won't focus too much on the bugs, because they are expected and will be fixed in the coming months. But, there are more bugs than a cheap motel right now.
For the most part, whenever I have encountered a bug, I just exit the game and reload for it to fix itself. I couldn't exit All Foods in one mission and in another where I had to search the body of an Arasaka agent, he fell through the elevator and I couldn't search him.
Who thought it was a good idea to map the crouch button to the skip dialogue button? For some interactions, I have to skip over a tonne of boring dialogue just to get to the point, sometimes it causes me to crouch as a result. It's a minor annoyance, but it's still damn annoying.
Other funny bugs I have noticed include getting into a Delamain self-driving AI vehicle and seeing it struggle through the streets (maybe a satire of the current unfinished state of self-driving vehicles), taking rough turns and at times, driving through other vehicles (with no impact). I did laugh as I watched my Delamain vehicle drive through another, seeing the exterior shell disappear and seeing everyone sitting in mid-air.
The comedic value of the bugs in this game gets old really fast though. At first, they were funny and more I played, the more they become an inconvenience (especially when I had to restart). As I said above, I won't be focusing on them or marking the game down because of the bugs.
Bugs aside, Cyberpunk 2077 is a hollow shell right now.
Night City as beautiful as it is, feels very static and more of an aesthetic backstory accompaniment more than anything. The NPC's are stupid, they'll go about their day when an enemy attacks me, but if I take one swing at someone, they scream and panic. Can't a Corpo swing his fists in public without inciting panic?
It's the little things that make the game feel less like a sandbox and more like a staged pre-scripted environment. Go into a store and take random objects that you find, nobody else reacts. The game is very dialogue-heavy, but the dialogue is more or less the same each time. Maybe GTA V has spoiled me in the living world AI.
It is evident that there are many issues in Cyberpunk 2077 that go well beyond needing a simple patch, the game is very incomplete and feels like they rushed to get it out of the door. But considering CDPR received death threats for the previous delay, I can't say I completely fault them.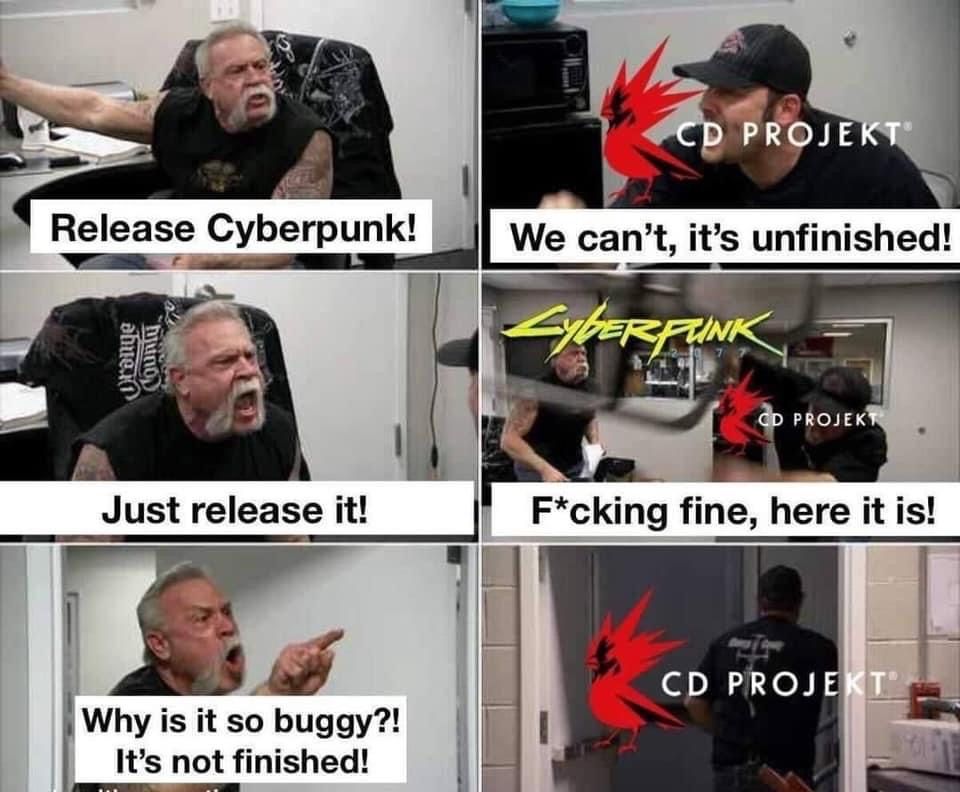 This meme floating around Twitter feels a little too on the nose. Even CD Projekt Red has been forced to issue a statement regarding the atrocious performance on last-gen consoles. And the crazy thing is, an anonymous CDPR developer revealed months ago that game needed at least 4-5 months more work before being ready for release.
Night City does indeed feel big and buzzing, but it is sorely lacking in inner-details that pad the city out and make it live up to the scope of itself. There are numerous side-quests and you will get fatigued constantly being messaged and called all of the time. The world seems to be severely lacking in things to do.
I am going to make another GTA V comparison. But, I would have expected that I could go and play a game of pool, being able to go into an arcade and play a game, go to the cinema and watch some dystopian thriller, maybe even go into a club and catch a show. I just want things to do that are not quests.
I would have loved to been able to own property, have garages of dystopian Cyberpunk-esque vehicles and bikes I could choose to drive, maybe even own a nightclub or two.
Maybe CDPR always intended to have these things, but evident by the mandated six-day working weeks and crunch, they were left out for the moment to just get the game done.
Expect modders to plug holes
Even if CDPR doesn't fix all of the issues in this game or add in crucial missing features to make this game long-term and engaging, one thing is for certain: the modding community will step up. This game is a modders paradise waiting to be explored.
Expect over the coming months and year to see numerous mods that not only plug in missing features/functionality, but go even further and fix some of the more broken aspects like the potato combat and driving mechanics.
Echoes of No Man's Sky
While the launch has been less than ideal, it's not a complete unsalvageable trainwreck. If there is one game that CDPR can learn from, it is No Man's Sky. When No Man's Sky launched, it released in a buggy state and was missing a lot of features. Over the years, Hello Games continued to work on the game and it has become a masterpiece in its own right. Even Hello Games received death threats from some gamers as well.
I can see the potential of Cyberpunk 2077 and I will continue to play it, even in its current flawed state. Is Cyberpunk 2077 a GOTY contender for 2021? Right now, I do not think it is. However, the base is there and if CDPR can continue to build this game up, the end result could be the greatest open-world game ever made (until GTA 6, that is).